What are Streamloots Originals?
Streamloots Originals are collections (decks of cards) created by the Streamloots Team that are 100% configured and ready to use. These cards are designed to give you the best experience when using Streamloots in your stream.
If you are planning to add new cards to your collection(s) or even create a new one, there are two paths you can follow depending on your resources and preferences:
From the Manage your collection section, click on Add cards and select Create your card to make your own cards and configure them entirely. Use this option if you already have your own card images, and you want to set the configuration of each card from scratch.
Select Choose Streamloots Originals to add a Streamloots original collection 100% ready to use. Use this option if you want to both save time and have a deck of cards already configured. You will be able to modify them after you add them to your page.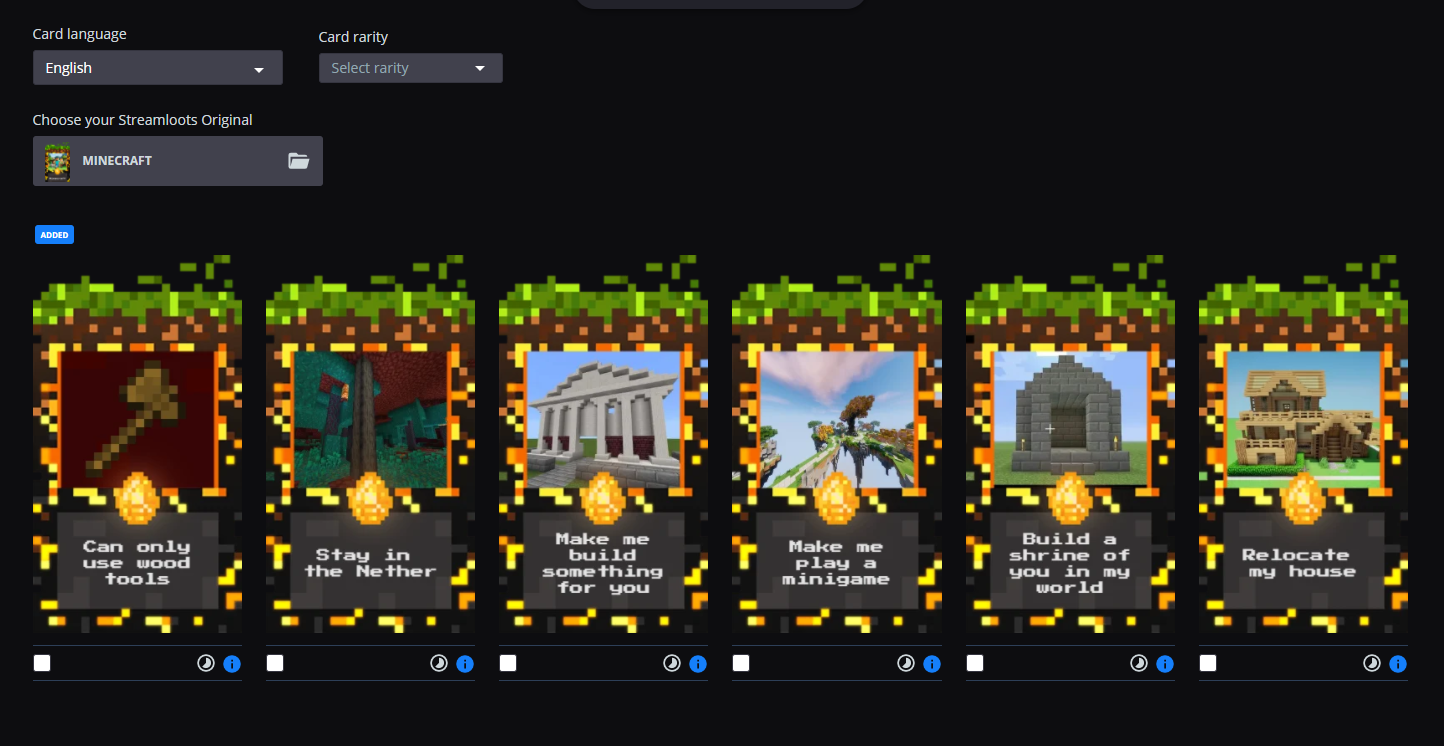 Where can I find them?
Go to Manage my collection (on the left side menu), click on Add Cards, and then on Choose Streamloots Originals. From there you can either add all the cards or select just the ones that you want to have in your collection.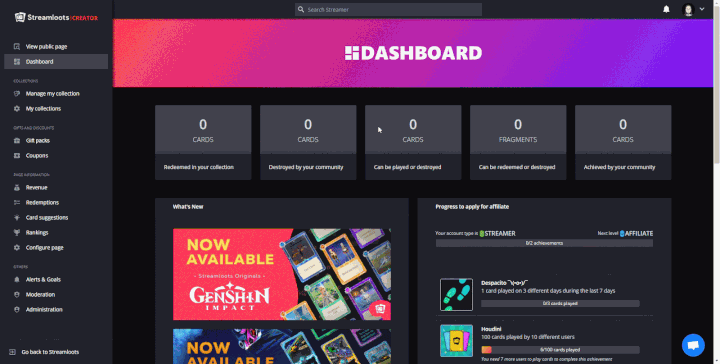 Types of Streamloots Originals
There are 3 types of Streamloots Originals:
Seasonal collections are usually published and available for users to add during special events such as Christmas, Halloween, or Valentine's Day. If you are planning something special to do on Halloween, you will probably find a collection on Streamloots you can use on that day.
Game

collections are decks aimed to be used when streaming a specific game. If you play a game regularly, or you want to add some extra fun when trying a new game (e.g., Dead by Daylight, Rocket League, Minecraft, etc.), you can search and add a specific collection for that game.

Themed

collections are not linked to any specific game or special event, but rather fit in a specific category. For example, you can find a collection for Just Chatting, and also collections for game genres such as Horror games or FPS.
Benefits of Streamloots Originals
These collections are 100% ready to use, which means they will save you a lot of time, and you don't need to be a creative mastermind to actually start earning money with Streamloots. You add them to your page and that's it. You are ready to stream.
Also, you can either add all cards in that collection or select and add only the ones you like. This means you can combine Streamloots Originals with your own cards. Let's say you already have your own cards for Apex Legends, but you need more in order to have a decent variety of interactions, and you have run out of ideas. You can take a look at the Apex Legends Streamloots original collection and add the cards you think will fit best, depending on your style and preferences. And now you have a deck with a vast variety of interactions you can have with your viewers.
Lastly, you can modify Streamloots original cards. We try to set the configuration in a way that may benefit all types of streamers, but every streamer is different. You can edit a card from a Streamloots original collection after you add it to your page, change the cooldown, message, TTS, sound, even the title! Use them as your basis and make them perfect for you.